Posted in
Semen Shlaen's history Semen Shlaen was born in Kupel in 1920. There is Semen on the photo #1, taken in August 1926, along with his younger sister Riva. Second photo was taken in June 1928, there is second grade class with a teacher Mechel Bychok (in a center). That teacher once denied second grader Semen of free school breakfast (tea with no sugar and tiny slice of bread) because of his social standing: Semen's father was considered to be rich "kulak" and therefore denied all citizen rights. Was he really rich? Before the Revolution of 1917 Semen's grandfather ran a small mill in nearby village Pokhutenci (7 km from Kupel); mill's capacity was just 800-1000 kg of grain a day. The mill got destroyed in a Civil War (1918-1922). Ruins, what left of it have been nationalized in 1924. In 1926 or 1928, Mr. Bogach, chairman of Voitovetski rayon council (located in Kupel), approached Semen's father and begged him to restore a mill, lease and manage it in order to help soviet authorities. Family already has seven children to feed, so father agreed. He restored the mill and ran it till 1930, when it was confiscated by kolkhoz. Semen's father and whole family were declared rich "kulaks" and became social outcast. On the second photo there are also Semen's first cousin Hancya Shlaen (murdered in Kupel), his school friends Petr Senderov, Semen Schwarz, Mikola Rusin (Ukrainian, died in 1932 from starvation). On the third photo there are young kupelians Jews, who returned to Kupel for a summer vacation in 1936.

They were studied or worked in different towns, but usually came to Kupel for vacation to see their families. On the fourth photo there are young beautiful girls: Fanya Neiman, Fira Milstein, Khana Milstein and Sonia Satz. (Photo is missing still.)They were murdered in the fall of 1941 in a death camp in Proskurov. Semen became a medical doctor and served in the Red Army in WWII.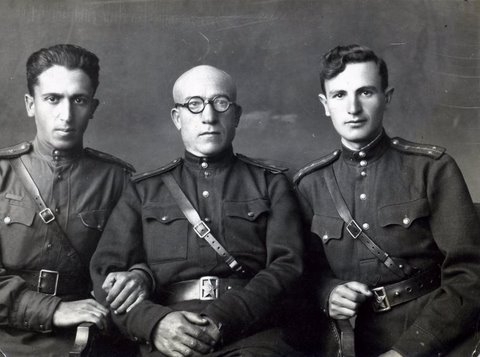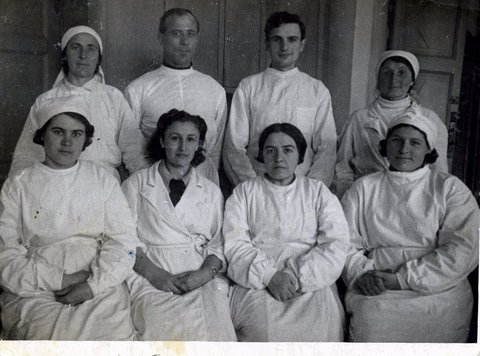 In March of 1948 Semen got married and there is his first family photo:

Semen Shlaen immigrated in United states in 19… and lived in Brooklyn.All Kupel's photos were made by photographer Geger, Hungarian Jew, who lived in Kupel after Civil War. In 1930 Geger was arrested and prosecuted for espionage. His wife and two daughters lived in Kupel; they were not arrested, but never heard a word about him.