Posted in
Zweig family from Kupel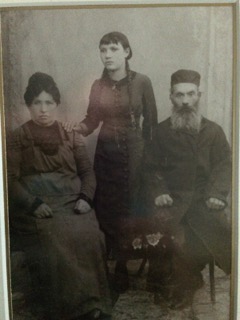 Tuvia, Tzivia, and Ita Zweig, photo made in Kupel
This page is based on the information provided by Chana Pinto, who is descendant of the Zweig family, who came in USA from Kupel in the early 1900's.
On 10/10/15 Chana wrote:
- " I know that there is one document for Max Zweig, who was my great grandfather's brother. My grandmother Chaya Rosa Zweig was born in Kupel in 1905 and was lucky to come to America when she was about 8 years old, with her parents . I know that my great grandparents stayed in Kupel with a few children but I don't know what happened to them, if they were murdered by the Nazis or if they died before the war. I have a picture of them taken in Kupel and I would like to post it on your website ."
There are a few Zweig family names on the compiled list of Kupel Jews :
| | | | | | | |
| --- | --- | --- | --- | --- | --- | --- |
| 47 | Cvaig, Ershel – сын Эршел Цвайг. | | | | | |
| 48 | Cvaig, Musya - Цвайг, Муся (юноша) | | | | | |
| 49 | Cvaig, Ira (Gaba) – Цвайг, Ира (Габа), дедушка Муси Цвайга, раввин в синагоге | | | | | |
Transliteration "Cvaig" is based on how the family name used to be pronuanced in Kupel.
So, in Kupel Zweig family used to live in a south-west part of the shtetl, in a close proximity to Glasers house. There is a description of this quadrant on the Kupel's map:
Quadrant 3.1 - left to right and top to bottom: Ashirovsky (tailor), the following series of vertically - Popik (Mordko Popik and Arie Shechter); Haim Kachko; Czarna and two daughters; Mendel Kutsyy and Semyon Kutsyy; Shloyme Schreiber, Joseph Kachko; Synagogue; Shpizels family house; bottom - creek and the river, then Torgovitsa (bazaar); middle - Hill, where kids used to sledding in the winter, skiing and skating place improvised; to the north of the hills – Furmans house; Ledovnya (ice room); Stable cabs; Houses of Srulik Gontar, Tuba and Stasya Rubman; The mother of Rabbi Meir and Rabbi Itzik Glazer's house; Rudyak's family house; Yankel, Lipa, Khan and Feiga Tailors; Sarah Donskaya and Leva Katz; Brandle Portnaya; Fortis (Glazier); Moishe Donskoy; hemp warehouses. Then, the last row of houses: Berish Sopkovets; Tevye Perel'muter (clicker); Malamud (lawyer); Gitel and Ioska Shlaen; Moshe Berenfeld; Hantsy; Ira (Gaba) Zweig; Pepa Stolyar. http://kupel.net/content/%D0%BE%D0%BF%D0%B8%D1%81%D0%B0%D0%BD%D0%B8%D0%B5-%D0%BF%D0%BE-%D1%83%D0%BB%D0%B8%D1%87%D0%BD%D0%BE%D0%B9-%D0%BA%D0%B0%D1%80%D1%82%D1%8B-%D0%BA%D1%83%D0%BF%D0%B5%D0%BB%D1%8F-map-legend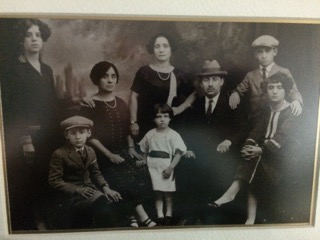 the Zweig family that moved to America, about 7-10 years after they lived Kupel.
Max (Musya, Мотл) Zweig's (Cvaig) has been drafted into American army http://kupel.net/node/144 (picture of the card)
On draft card it says: born in Kupel, Volyn region, Ukraine on October 15, 1891. Family: wife, baby. father -in-law, mother-in-law. Served in American Army for 3 years, rank - private.