Submitted by Nina Bolshakova on Fri, 03/03/2017 - 06:58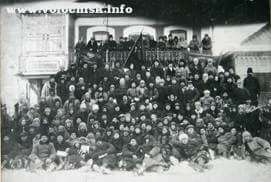 There were 2 kolkhozs in Kupel, Ukrainian and Jewish. Jewish kolkhoz was given the land that belonged to local big landowner before the revolution. On March 2, 2017 Sergiy Zadvornyy, Ukrainian historian, sent me a photograph of regional kolkhoz members conference in Kupel in the fall of 1931.
В Купеле было 2 колхоза, украинский и еврейский. Еврейскому колхозу была дана земля, до революции принадлежавшая местному крупному землевладельцу. Осенью 1931 года в Купеле состоялась региональная конференция колхозников
2 марта 2017 года украинский историк Сергей Задворный отправил мне фотографию конференции , среди которых , конечно же, есть и члены еврейского колхоза.